Zenith El Primero Striking
Zenith El Primero Striking is not a completely new watch, actually all watches aficionados will definitely see the resemblance between it and the El Primero that was manufactured in 1969. What most people don't know is the fact that Zenith is behind a lot of famous watches; for example, many of Rolex watches had El Primero movements and there have been many other brands that used their revolutionary mechanism. This didn't happen in the past, in fact, Rolex only started making their own mechanism in the 2000s, so Zenith was a pretty important part of high end brands, even those as big as Rolex.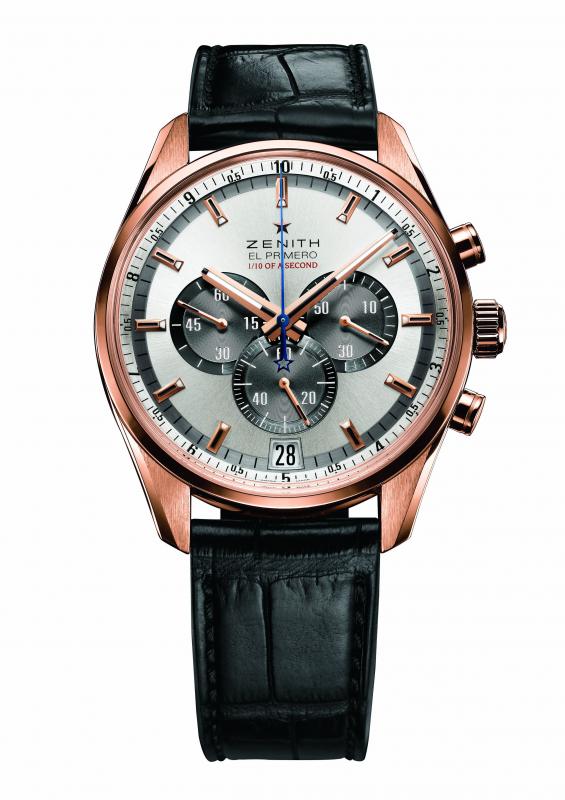 The Zenith El Primero Striking is a celebration of the first automatic chronograph created with high beat. The watch comes with a lovely sub-dial layout, sweep seconds and a sweeping hand that adds so much to the design. You will notice that the dial on this watch is not just well made; it's exquisite in terms of design. It also features a simple and elegant white background, beautiful rose gold hands and darker elements that enhance certain functions. You will notice that the watch doesn't register hours with its chronograph function as it focuses on tracking factions of seconds. Actually the seconds hand beats ten times per seconds due to the 100 teeth wheel created from silicon, which is a lightweight material allowing the watch achieve so many beats. This limited edition watch is definitely a new beginning for the brand that focused all their efforts in making this beautiful watch.
Zenith El Primero Striking also comes with a 42 mm case, which makes the watch average sized and perhaps a bit on the large size for those who are used to older watches. But it can be worn by all wrist sizes without any worries.
The back of the case is see-through so you can actually watch the superb mechanism that leads to such performances.  Expect however to pay about $ 10 000 on this watch, which some say it's a very good price for a limited edition timepiece.
If you want a mesmerizing elegant watch with spectacular design and a great value for your money, the Zenith El Primero Striking might just be the right candidate. Not to mention the fact that this watch was voted the best watch in 2010.