Cartier has been around since the 19th century, creating jewelry watches that were worn by those who wanted something extra special. This particular watch was created by Louis Cartier for his friend, the aviator Alberto Santos Dumont. The watch was created in 1904 and was especially made so that the aviator was able to check the time during his flight. The dial was rounded and had exposed screws which were the elements that made this timepiece one of the most iconic in watchmaking history. The fact that the Brazilian Aviator considered pocket watches as unsuitable for flying led to the creation of the first wristwatch in history. He complained to his friend about the fact that he was unable to check the pocket watch in a timely manner during his flight. Soon the watch became a hit and was even manufactured in ladies sizes with the main material being either solid steel or gold.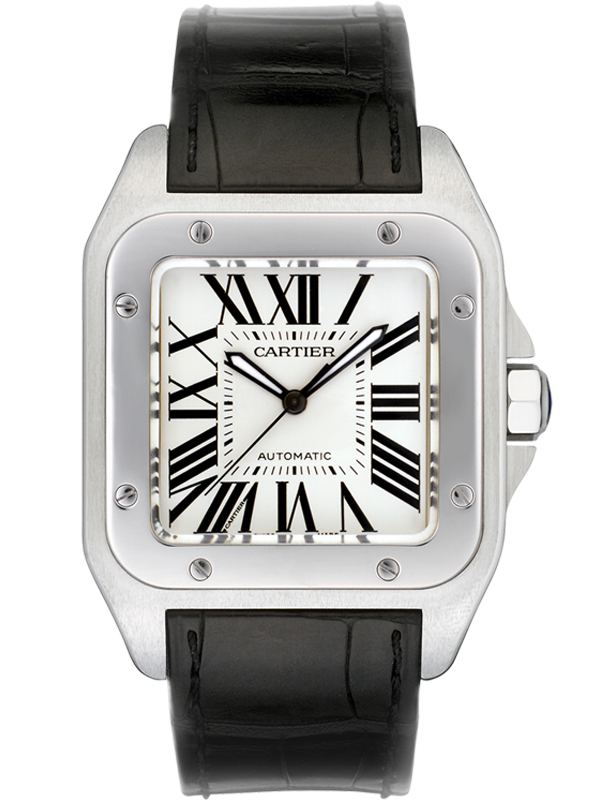 Nowadays a variety of straps and various colors are available for those who want to wear the watch that made history. The timepiece has been modernized and changed in the course of a hundred years but the main elements remain the same: the watch shines through its simplicity and elegance. A Cartier Santos 100, could never be properly replicated and is now one of the most popular wristwatches in the world. The newest modern Cartier Santos 100 features a steel case with a steel octagonal crown that has been set with a faceted synthetic spinel. The watch is an incredible addition to a suit or any other formal attire and it's a great accessory for business men and women no matter what their overall style is. It features a sapphire crystal with silvered opaline dial and Roman numerals for a traditional touch. The sword-shaped oxidized steel hands are luminescent and go really well with the rest of the elements. The watch comes with a beautiful and comfortable alligator skin strap with a steel double adjustable deployment buckle that is very specific to this model. The movement is mechanical with a self-winding Cartier caliber 049 that comes with water resistance up to 300 feet. This means that those who want to wear the Cartier Santos 100 all the time should be careful when diving and make sure that they protect it from too deep waters.
The case dimensions are 51.1 mm with 41.3 and 10.34 thickness making this watch a pretty robust one perfect for those who want something elegant but more striking.