Laureato Tourbillon with Three Bridges
One of the oldest Swiss watch manufactures, Girard-Perregaux defines, creates, develops and produces in-house both the external components of their watch models and their movement. Inspired by the company's past, which goes back to 1791, this version of Laureato Tourbillon illustrates Girard-Perregaux's modern approach to its know-how, the efficience of its research and development department and the company's ability to base its innovations on tradition.
An exceptional watch design featuring three parallel bridges, one hosting a one minute tourbillon with 72 elements, Laureato Troubillon with three Bridges came out last year in a limited edition, numbered to 10 copies. The watchmaker provides its exclusive clients  with an exquisite watch whose three usually golden decks have been replaced by translucent blue ones. Indeed, Girard-Perregaux has won along the years numerous prizes with different models featuring three gold bridges: at the Neuchâtel Observatory in 1860, at the Universal Exhibition in Paris in 1889. Placed on the transparent back case, they now seem to be the silent witnesses of the work performed by the 241 components of this ingenious time measuring device.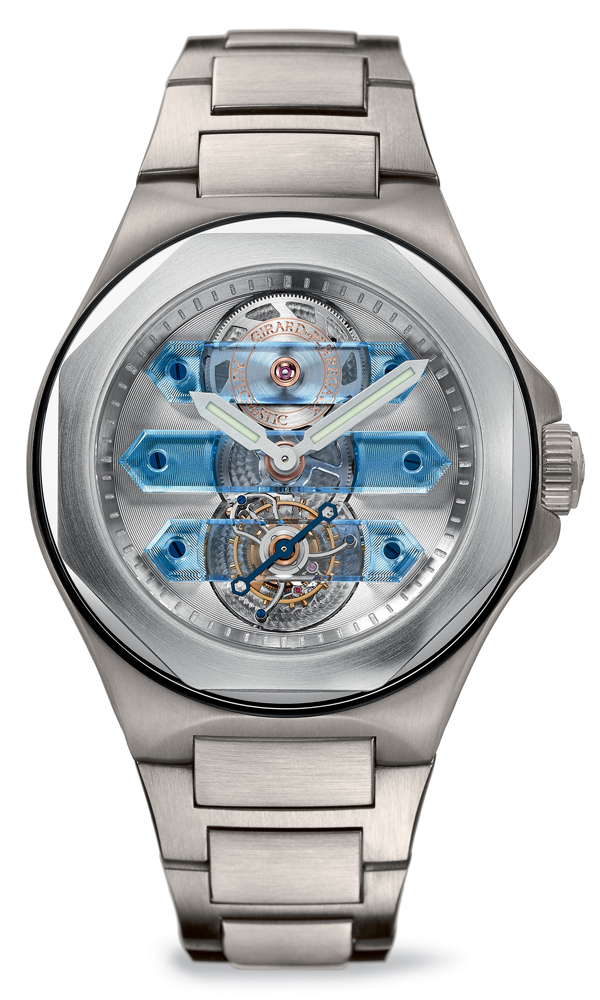 Designed in a contemporary style, the new Laureato Tourbillon bu Girard Perregaux is a beautiful watch. First,  the bracelet is by itself a small masterpiece: its H shaped links embody the perfection of classical design and simplicity of style. The titanium clasp has double blades and bears the GP logo. The titanium water resistant to 30 meters case has its back secured by 6 screws. An individual number is engraved by hand on the anti-reflective sapphire crystal that gives a nice view of the movement. The octagonal platinum bezel combines perfectly the finishes polished in a spirit of power.
From a technical point of view, this watch is a proud exhibit of the house's mastership.
The mechanical movement with automatic winding caliber Girard-Perregaux 9600-0004 is one of this model's most important features. It involves, amongst others, the tourbillon with its hand bevelled and polished escapement and lever bridges, the upper and lower frames balanced by means of regulating gold screws. Despite its 72 components, the  tourbillon is extremely lightweight – 0.3 grams.