Girard Perregaux 1966 Full Calendar
Proudly inheriting the Girard-Perregaux sober, traditional, yet contemporary style, this new model, manufactured in white and rose gold, offers an ingenious and easy to use mechanism. One of the most useful complications of everyday life, the annual calendar shows the date, automatically taking into account the different durations of months. It does not require more than one correction per year, each February 28 for non-leap years
Enriched by a poetic and technical touch – the equation of time, this model displays by means of a rare astronomical complication, with the hand at 4:30, the difference between real solar time and civil time. In order to understand the importance of this technical spec, we must know that the duration of a solar day varies daily, due to the elliptical shape of the Earth's orbit. Real solar time and civil time coincide four times a year – on April 16, June 14, September 2 and December 26 and even these dates change during leap years. However, the gap is nearly a quarter of an hour on certain dates. On February 12, for instance, the equation of time is of about + 14 minutes. So, the sun passes the meridian when our clocks mark 12:14. On November 14, the equation of time is approximately -16 minutes; meaning that the noon has come at 11:44 civil time.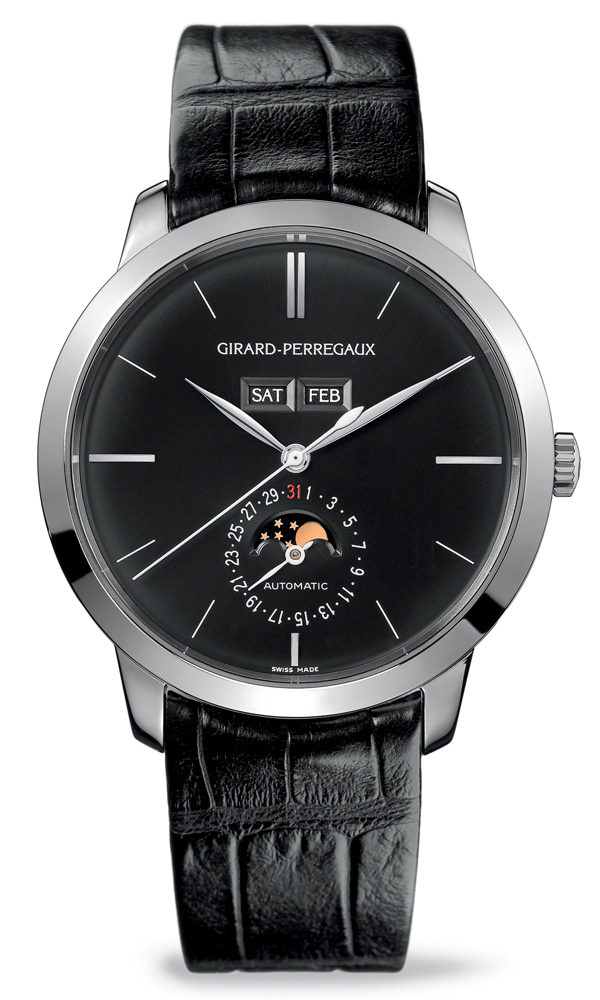 As if more sophistication was necessary, the correction of the calendar is made by the crown in both directions. The use is simplified and the absence of a correction device on the 38 mm case manufactured in the Bautte Workshops, leaves this model's smooth curves intact. While facilitating readability, its display provides a twist of design. Two nicely curved hands punctuate the course of hours and minutes. The date, time equation and the small seconds are indicated by small blue steel hands, each with a specific shape as the months appear in a circular window at 7 o'clock.
The technical nature of this model provided by its GP3300 extra flat self-winding movement is revealed on the back of the watch. The transparent scratch and water resistant sapphire crystal reveals its movement's architecture, consisting of 287 elements and meticulous finishing performed by the Swiss master watchmakers. A model especially conceived for astronomy lovers, Girard Perregaux 1966 Full Calendar is reserved to a restrictive number of exclusive clients, as it is issued in limited edition – 99 pieces per version.