Michel Herbelin Newport Trophy
Michel Herbelin is a watch manufacturer that started in the Franco-Swiss Jura region, Charquemont. The drive for perfection of the watchmaker and the high quality of the watches were sold under the name of Impec between the years 1947 and 1965 which was short for impeccable. This shows the level of determination that started the company and the legacy for which it still stands today. Ever since its beginning, the company was independent family run so there are now three generations working together to come up with new designs while still maintain the family tradition which goes back or more than 60 years.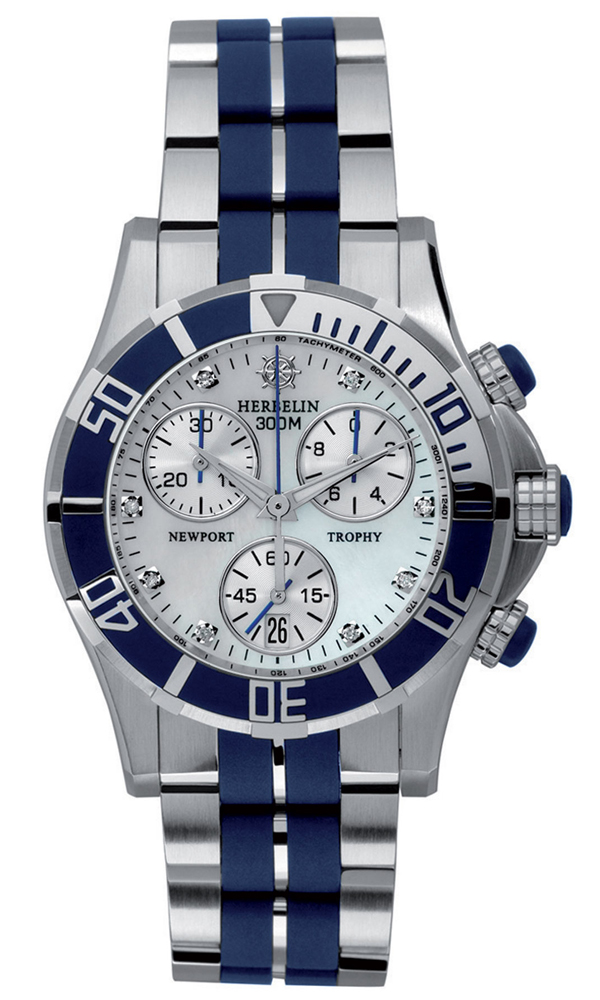 One of Michel Herbelin designs is the Newport Trophy Grand Sport. As the name implies, it is a sports watch but it actually goes a bit over this description with a nice looking style and fashionable design. This particular model is water-resistant for up to 300m and is made out of stainless steel combined with high tech ceramic; there are also versions in the collection that are only water resistant for up to 200m.
It is a watch inspired by the water element and designed to withstand some of the harsh conditions that can go with it. The high technical standards at which this watch is held and the overall resistant build has made it perfect for trips around the world and for big yacht races such as the Vendee Globe and Route du Rhum.
The blue lines on the bracelet and on the rotating bezel add a bit more style to the original design and the small touches on the display such as the boat wheel and the rare stones complete the look very nicely. This, overall, creates a very stylish watch that can be perfect for every occasion although it is actually a sports watch mainly designed for water use such as yacht racing. A very important thing to notice is the price range which is at about 1600 dollars; this is quite affordable for such a stylish watch and while it looks great, its price range allows it to reach a wider audience than other big watchmakers on the market.