Solar Turbine Steampunk Pocketwatch
Steampunk is a subculture that emerged in the 80s and 90s and it still manages to have a lot of followers nowadays. There are many items that are especially made for these people and they all resemble 19th century time and culture with a futuristic touch. However, the steampunk culture cannot only be seen in fashion but also movies, games or books.
For all the geeks out there, steampunk is definitely a subculture that has amazing items. If you needed just one item to complete your steampunk attire, you can get now a beautiful accessory that will definitely impress your friends. The Solar Turbine Steampunk Pocketwatch is now available online and offline to help you create the perfect steampunk look. This beautiful watch can also be used as a gift if you have a friend who is into this style and it seems that more and more people are discovering steampunk culture and what it has to offer. Let's see what this beautiful 19th century style watch is capable of.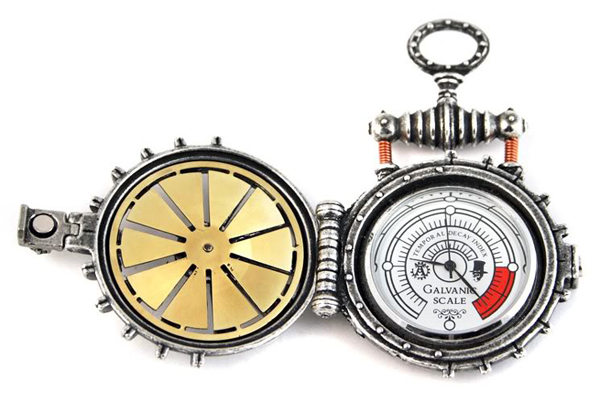 The Solar Turbine Steampunk Pocketwatch has a nice spinning inset metal plate with a beautiful brass finish that resembles a turbine; it also has an English pewter casing with copper accents to make sure that it goes well with your steampunk attire. When it comes to the mechanism the watch has a quartz movement, a magnetic fastening hatch and it is solar powered. It was created by Ezekiel Empire Rosenstein, a company that makes Goth and other subculture related (like punk or cosplay) items and it is the second in their series. The amazing watch comes in the brass and yellow tones with a dial that symbolizes the Galvanic scale. It comes with a box as amazing as the watch in a bag made from velvet, just like a proper 19th century man should have.
The Solar Turbine Steampunk Pocketwatch can be a great gift for a watch collector or a steampunk enthusiast. This unique watch will not only give you style but it will also manage to express your personality and tell time in a pretty special manner. Also, you will manage to stand out wearing such a cool item on your wrist.