When you first encounter the Bell Ross Red Radar be prepared to be blown away; the watch comes with great design that is extremely unique and unconventional for most watches out there. If you didn't know Bell Ross is a company that makes pretty amazing watches. There are a few companies that put this much effort in design and the technology behind their pieces. What you probably don't know about this company is the fact that they have been on the market for only 20 years and have created perfect watches since they started. They raise their standard with each collection created, bringing more innovative watches almost every year. It needs to be said that Bell Ross definitely creates watches for professionals so you will definitely find something that will satisfy your needs when you need resilient watches even in the most extreme conditions.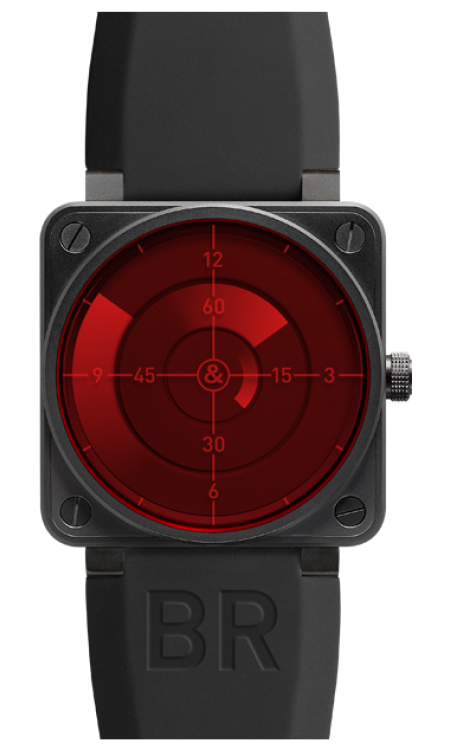 The Bell Radar watch presented here is one of those extremely cool watches that take watchmaking to a whole different level. There are many colorful watches out there, but this watch goes beyond in excelling how to attract attention to itself with its interesting approach to horology. The watch also comes with an interesting disc that has various hour markings while the middle disc shows minutes and the central one shows seconds.
The watch uses an interesting mechanism with a disc system mounted to a traditional ETA movement to create the whole look everybody is talking about. The model actually looks like a red radar screen and comes with a red crystal on the top and also different elements that make it look very realistic. For those looking to buy such a watch, they should know that it is in limited series and it might be a little bit harder to find one available. The watch comes with a 46 mm case so it might not be extremely fitted for those with a small wrist; however, if you are looking for an oversized watch, this is definitely the perfect one to have. The strap is made of rubber which adds to the modern look of the watch and it's also a very comfortable strap with simple design.
So if you want something that screams unconventional, this has all the elements that make a watch stand out.