It is common knowledge that not everyone affords a Rolex watch, especially a beautiful Rolex Sky Dweller. For those more fortunate, the watch seems to be the embodiment of perfect technology and great design. Apparently, there have been 14 patents that have been put into this watch and it has been created to provide features and information for those who travel a lot or professionals.  One of its amazing features is the fact that people can keep track of time, no matter where they are going.
The watch was launched in 2012 at Baselworld and since then it has been a massive hit. One of the reasons for this is the fact that the watch has an extremely modern look that appeals to both mid-age and younger people. It is also a watch typical for the man who wants to go to extremes and the professional who perhaps needs its functions to save his life. The interesting aspect is the fact that there are people out there who are willing to pay a great amount of money on this even if they won't fully use it and this is because of the way it looks and feels, not to mention the prestige of wearing a high end brand like Rolex.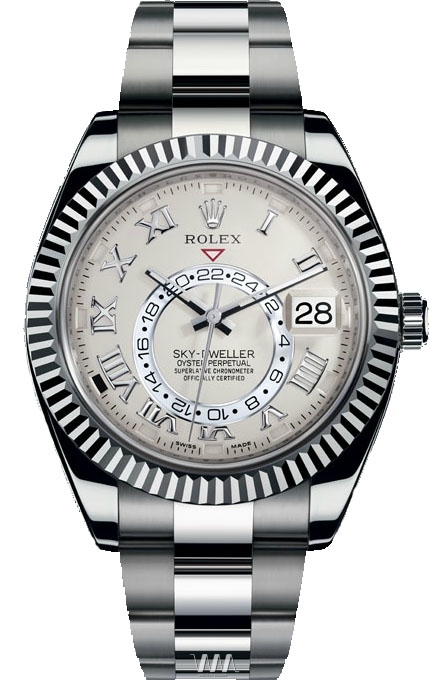 With its revolutionary design the watch comes with a blend between modern, functional, simple to use and extremely beautiful. However, there has been controversy regarding the way it looks, especially because a lot of people think this is a mixture between too classy and too modern. But this factor alone has given this watch its popularity. As it was mentioned earlier, the watch does come with awesome functions such as the annual calendar that was inspired from the astronomical phenomenon Saros and the Cyclops lens over the date. It also comes with a rotatable fluted bezel and a case that is made with 18 ct gold that features elegant elements. There are many models besides the one presented here, such as the golden tone model or the chocolate tone model. When it comes to its functionality, the user can easily rotate the bezel to access the watch functions with a few simple moves.
The 42 mm case is perfect for any wrist, so if you are looking for an average sized watch this is probably it. The dial comes with a lovely ivory shade that only enhances the sophistication that lies within the design of this watch.
The Rolex Sky Dweller might be a hybrid, but it definitely blends evenly all the contrasting elements creating a beautiful timepiece that will be worn with pride.