Cartier Santos Chronograph
The Cartier Santos Chronograph is not just a watch, but a timepiece that shows the tradition of this company and a great achievement when it comes to high end watchmaking.  If you love the way this watch brings a new definition to simplicity, you will adore having it on your wrist. This particular model comes in a nice color with a lovely brass tone in combination with a simple black strap that feels as comfortable as it looks.
You will notice that the dial on this watch is exquisite; it comes with a lovely black background that has beautiful golden elements on it. You will definitely feel the classy charm it has to it due to this particular design. The watch comes with the following functions: hours, minutes small seconds, chronograph, off-center counters for 30 elapsed minutes, stop seconds function, etc. The case is made from high quality stainless steel case with eight screws that hold it in place.  You will also appreciate the non-reflective surface on top and the fact that the watch comes with water resistance for 100 meters.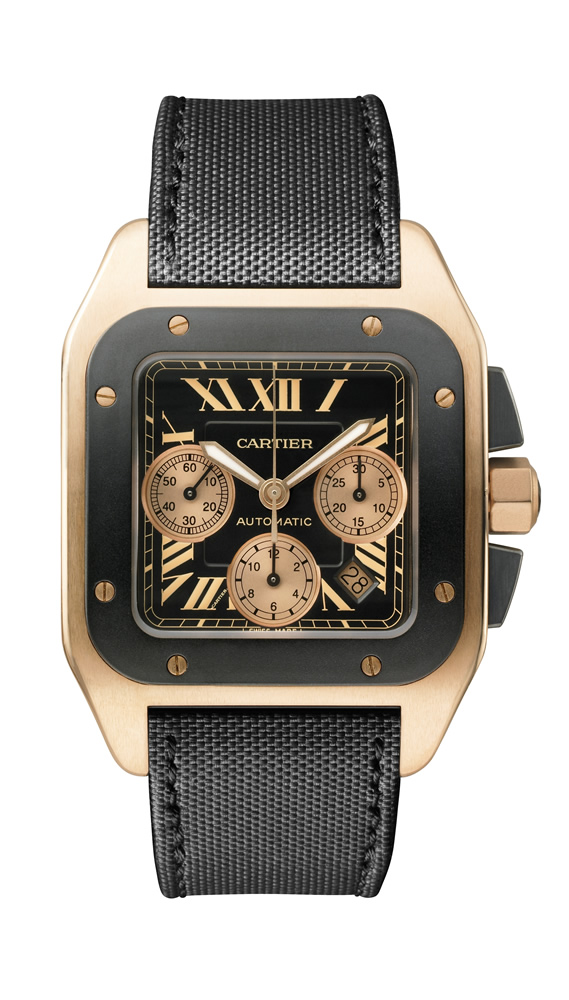 The strap is made with great looking alligator skin and has double folding clasp with stainless steel; you will notice that it has a great comfort level and goes extremely well with the whole design. A lot of customers don't know that this is definitely not the first version of Cartier Santos and since the watch has been first made, the company made a lot of changes, especially to its mechanism. When it comes to the design, this particular model can be considered the new and improved Cartier Santos Chronograph as it comes with more modern touches that the older version.
As a tip for interested buyers, one should always make sure that they know what case size they are buying because you might end up with a watch that may feel too big. For example this watch comes with a case that measures 46 mm with 54.3, which means that it might end up being too much for the regular wrist unless you are actively looking for an oversized watch. If that's the case, the Cartier Santos Chronograph makes for a perfect accessory that will surely stand out and feel trendy despite its classy look.