Fossil PH1096 Philippe Starck Watch
Fossil is a watch manufacturing company that was founded in 1984 and since then they managed to create great price to quality ratio watches that are quite fashionable nowadays. They managed to attract customers and get themselves known through their amazing designs and their collectible boxes that came with their various watches. They had different messages or cool designs that people remembered. Since then, they have kept their unique style and still continue to impress watch enthusiasts. This particular watch can be considered truly unique as it manages to show time by using dots and incorporating that into a cool minimalistic and futuristic style.  Fossil managed to create a lot of unique watches over time with the help of the well-known watch designer Philip Starck , who also created this watch.  However the Fossil Men's PH1096 Philippe Starck O-Ring is definitely one of the most unique watches he created and we are proud to say that you can easily buy it for an affordable price, about 125 dollars which is definitely a bargain for such a cool watch.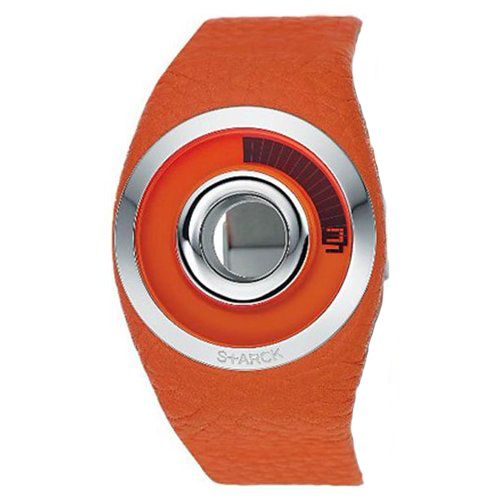 Nowadays, Fossil manages to produce about 300 different styles of watches and has also managed to design amazing technologies over the years. This minimalistic watch comes with a case diameter of 43 mm and a case thickness of 12 mm, made from stainless steel. The band is made from leather with a width of 30 mm with a fold over clasp and the dial window material is mineral. This incredible watch has a bezel material made of stainless steel with a stationary bezel function. The movement is with quartz, making it even more reliable at telling time. If you plan to go swimming or just dance in the rain while wearing this watch, you are in luck as it comes with 99 feet water resistance.
If you are looking for a cool and unique watch, the Fossil Men's PH1096 created by Philippe Stark is definitely the watch you have to buy. Not only it manages to tell time in a really cool manner but the company is known to produce high quality watches so it won't just look amazing.