Vacheron Constantin Patrimony Traditionelle Squelette
How can a brand transform an amazing technical achievement into something that can be treasured and appreciated for countless generations?
By continuously achieving the highest quality in its products, by maintaining a level of excellence throughout its manufacturing process and by using the best craftsmen and materials to make every time piece an exquisite jewel.
Few brands encapsulate all that better than Vacheron Constantin who has been reaching the peaks of excellence for more than 250 years. The Swiss name is synonymous with excellence and precision and offers some of the most beautiful time pieces in the world.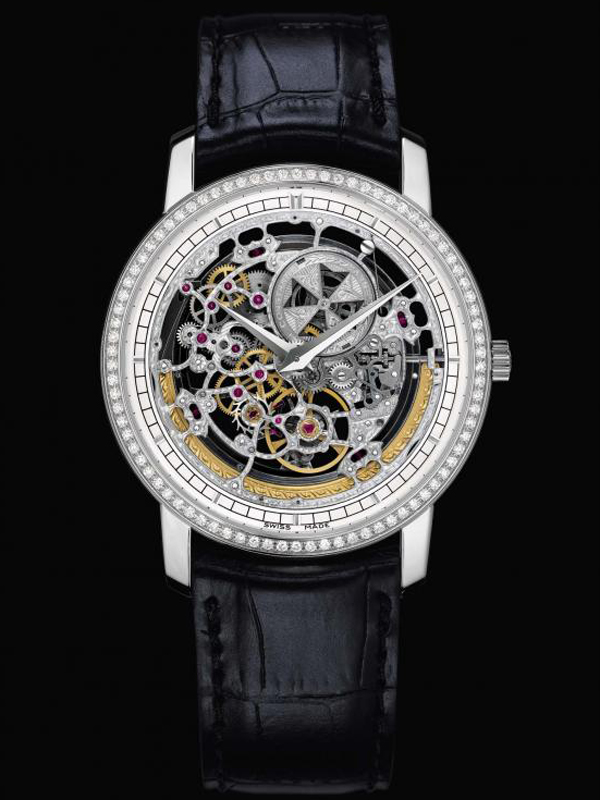 The Vacheron Constantin Patrimony Traditionnelle Squelette is one of the most beautiful watches that the Swiss brand has ever made. It combines the aspects of watchmaking with a level that surpasses craftsmanship and reaches that of artistry.
The Patrimony Traditionelle Squelette is a unisex watch with a 38 mm diameter making it a perfectly balanced watch for just about any wrist even if it may appear to be a bit on the small side compared to more modern brands.
Every movement of the mechanism can be viewed through the hard sapphire glass that offers fantastic visibility and great durability. It is scratch resistant and glare proof, so that you can read your watch regardless of the lighting conditions.
The strap is made from alligator leather perfectly mirroring the tasteful and classic nature of the watch while offering a durable and comfortable strap that can go perfectly with just about any type of elegant attire.
The Vacheron Constantin Patrimony Traditionelle Squelette is more than just a timepiece, it is the culmination of centuries of technological progress that can simply improve your life quality and especially your social status. It is a conversation starter to say the least, and whether you're talking to watch enthusiasts or someone who appreciates fine mechanisms you have a great conversation starter.
Socially, the watch projects wealth, style and over all knowledge. This isn't the type of watch you see on just anybody and its wearer is a person that knows watches and what elite watchmaking by a top brand means.