Vacheron Constantin Métiers d'Art Mécaniques Ajourées
The Vacheron Constantin Métiers d'Art Mécaniques Ajourées is a very unique, interesting and complex timepiece that was introduced at the SIHH 2014 show. This refined and exclusive skeleton model was designed for classy gentle with a fine taste in intricate watches with a classic twist.
The particularity of this timepiece consists of its one of a kind design that combines Gothic inspired elements with amazing open-working and elegant grand feu enamel accents. By creating an 18 k white dial which reveals the intricate and fascinating automatic mechanism that animates the watch, Vacheron Constantin manages to get our complete attention and admiration. It is a model that appeals to all types of watches enthusiasts, a watch that provokes your imagination.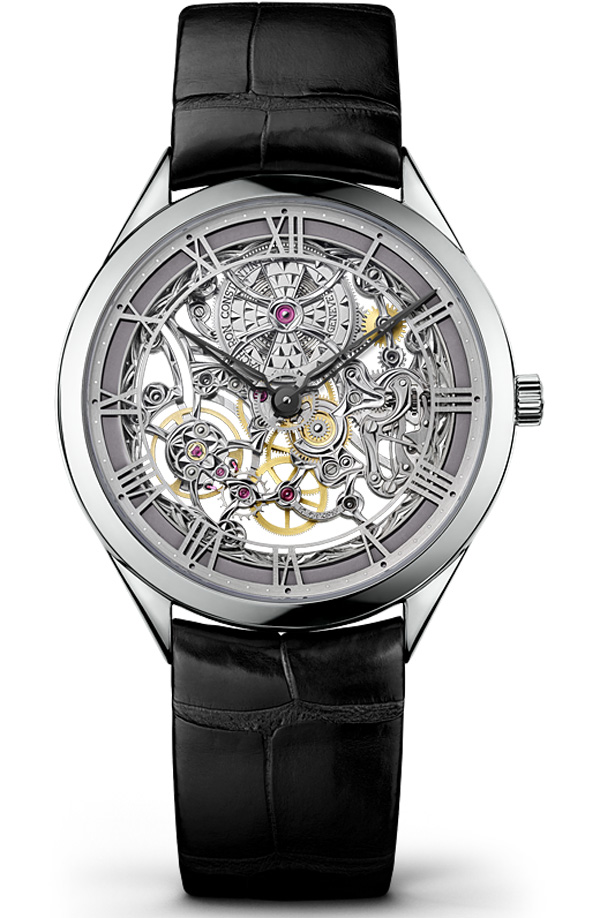 It is a well-known fact that the brand has a preference for skeleton watches, but the Métiers d'Art Mécaniques Ajourées is a remarkable achievement.  This model is a brilliant interpretation of the 4400 SQ Calibre which has been spectacularly skeletonized. This manual winding mechanism with 21 jewels and a 28,800 v.p.h frequency offers a 65 hours power reserve. Only the architecture of the movement is complicated whereas the functionality is as simple as it gets. The watch displays only minutes and hours. There is no seconds hand on the dial.
As far as the aesthetics of the 4400 SQ Calibre go, this mechanism is anything but ordinary. Its base plate and skeleton bridges feature arched, curved lines which are incredibly similar to the ribbed vaults that adorn the ceilings of Gothic-inspired nineteenth century buildings. To enhance the unique design of the watch, the surface of the movement is engraved with elegant vaults. Vacheron Constantin's watchmakers need approximately three days to decorate and engrave the 4400 SQ Calibre used on the Métiers d'Art Mécaniques Ajourées.
Another Gothic architecture inspired detail is the enamel ring below the mechanically skeletonized Roman numerals. This grand fey enamel chapter ring is usually colored in grey, blue or black, and is pretty narrow.
The watch has been developed and manufactured to impress its wearer from all points of view. Even the size of the case fulfills this objective. With a 40 mm diameter and a 7.5 mm height, the model has a formal, slim and traditional looking case. The material used for manufacturing it is white gold, but the color for the enameled chapter rings is optional. You can choose from black, grey or blue. Vacheron Constantin also offers a version that has a bezel decorated with additional jewelry such as baguette-cut diamonds.
To complement the extravagant look of the timepiece, the brand decided to offer this model with an alligator Mississippian strap in dark grey color. This stylish and comfortable band comes with an Ardillon buckle manufactured from 18 k white gold. The clasp is very elegant and easy to use.
For decades, Vacheron Constantin has been a symbol for quality, excellence and tradition. Its watches are truly spectacular and iconic and the Métiers d'Art Mécaniques Ajourées is one of its most recent successes. This amazing timepiece is the perfect example of superlative watchmaking skills.