Ulysse Nardin Anchor Tourbillon
What Baselworld would be complete without a new watch by Ulysse Nardin and when it comes to the 2015 edition of the Swiss exhibition nothing changed as the famous brand offered its fans the Ulysse Anchor Tourbillion.
The beautiful Ulysse Nardin maintains a good balance between technical innovation, beautiful design and a classic quality that only a brand like Ulysse Narding could pull off.
The Ulysse Narding Anchor Tourbillon has a 44mm case which, while on the larger side, will look good on just about any size wrist. The same case has been used in the brand's Classico collection. The Anchor Tourbillion's case will come in either white or rose gold. The dial is no simple glossy white model; it is made from Frand Feu enamel by Donze Cadrans a dialmaker which operates under the Ulysse Nardin company.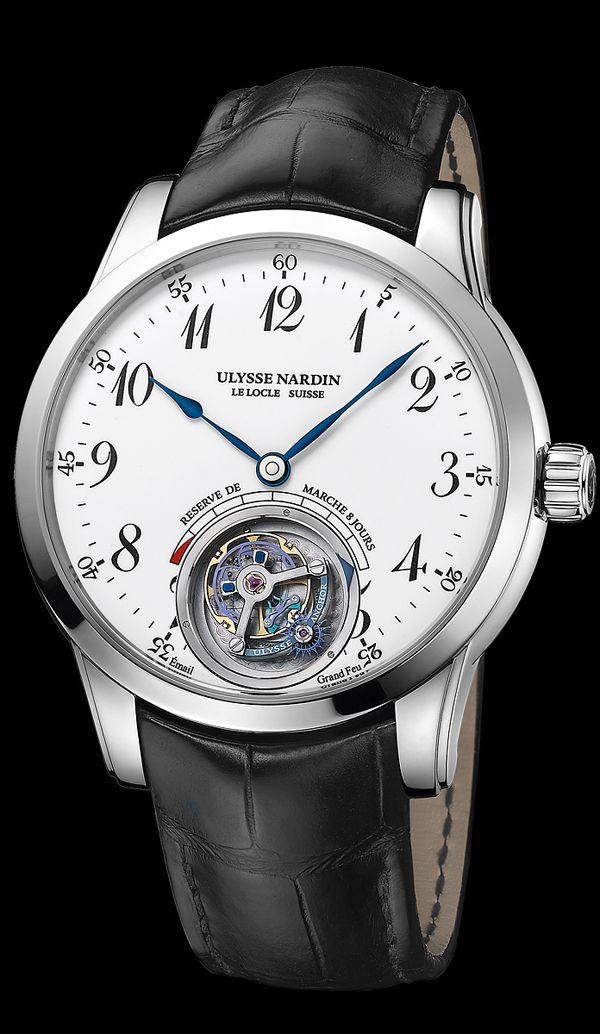 In order to best protect the watch from the normal wear and tear while also allowing its users to have the very best visibility this model boasts a sapphire crystal both for the front and back of the watch. The watch is also quite thick thanks to the tourbillon; however, the thickness doesn't take away anything from the look of the watch, particularly when paired with a leather strap.
The watch is powered by the caliber UN-178 which is a manually wound 3.5 Hz movement with two barrels. The movement offers an impressive power reserve which spans over the course of a week. The watch also comes with a power reserve indicator, a 60 second tourbillon and a highly spectacular constant Ulysse Anchor escapement system.
The constant-force escapement was developed by Ulysse Narding and Sigatec, a company that manufactures and designs silicum micro components. The constant-force escapement in the Anchor Tourbillon is made entirely from silicium with research being carried out for well over 8 years in order to create this model.
The Ulysse Nardin Anchor differs from other Swiss anchors by using a circular frame which supports a centered fork that is made stable by two blade springs. The blade springs are remarkably thin, 1/10th the thickness of a string of human hair.
The Ulysse Nardin Anchor Tourbillon will be available in a limited edition of just 36 pieces. Out of the 36 pieces, 18 will be available in rose gold while the other 18 in white gold. The watches are priced at $84,000 and are available for purchase since May of 2015.