Roger Dubuis Excalibur Quatuor Blue Cobalt
Switzerland is known everywhere in the world for producing some of the most beautiful and fascinating watches in the world and this blue beauty is right up there with the best we've ever seen. The Roger Dubuis Excalibur Quatuor Blue is a wonderful piece of machinery that stands out not just because of the price, which when it was first launched costed a measly $1.1 million, but also because of the design. The blue overall tone of the whole watch is contrasted by the golden and silver four small balances set at 45 angles each and it is an incredible example of craftsmanship. Although the price may hurt some customers, the design, combined with all the features of it are definitely made to impress.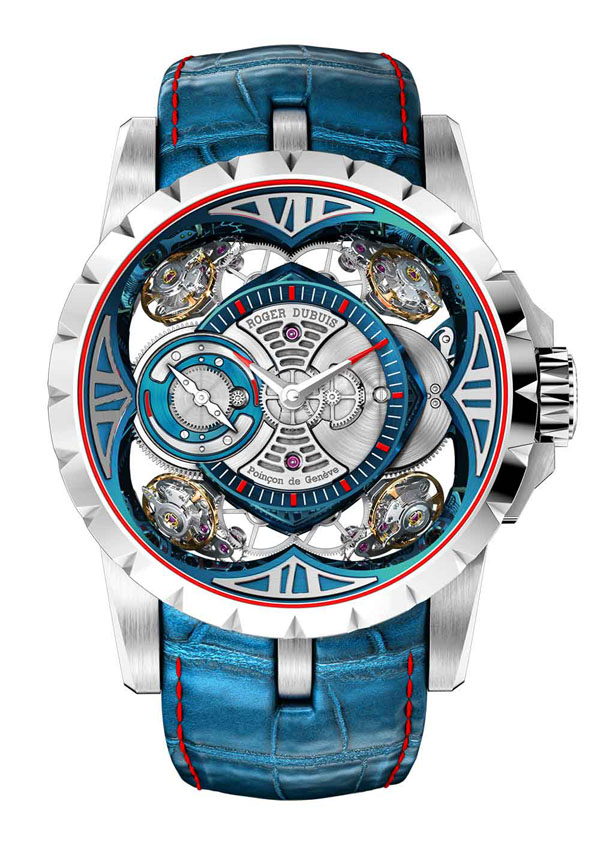 The design
When you first lay eyes on the Roger Dubuis Excalibur Quatuor Blue, the first thing you notice is the design. The belt is a beautiful shade of blue that goes perfectly with the dial of the watch and the four balances set at 45 degrees. The combination of colors of the watch, blue, silver and golden goes great together and emphasizes the core materials that make up the watch. The red dial is very thin and you can barely notice it, but it draws your eyes to the dial of the watch and makes the blue belt stand out thanks to the red threat. Although the design contains a lot of colors, they are so wonderfully put together that the final product does not look tacky at all. On the contrary, it spells elegance and will gently stand out with any outfit.
According to the producer, the Roger Dubuis Excalibur Quatuor Blue is made up of over 500 pieces and the main material of all these pieces is "cobalt blue". The "cobalt blue" is a combination between case, bezel, caseback, and crown. The producer prefers keeping the exact quantities of each material that is used to create the alloy a secret but one thing is for sure: the final product is heart stopping.
When the watch starts spinning, you can't take your eyes off of it. The precise nature of the movement of the hands, coupled with the four tourbillons that are set in a square shape in the dial of the watch are fascinating to watch. These four tourbillons are connected to five different gears and they all move at the same time.
The Roger Dubuis Excalibur Quatuor Blue is definitely a watch that will stand out. You can wear it with any outfit regardless of the colors, it will only complement it and not make it look tacky.