Panerai Luminor 1950 Tourbillon GMT
The Panerai Luminor 1950 Tourbillon is a watch worthy of praise, a watch that has great history and tradition behind it. When it comes to its value, the watch definitely appeals to collectors and with its simple to use interface it can also be a perfect classic watch for those wanting to accessorize themselves in style. But don't be fooled about this, even though the watch looks simple, the price is not low, especially since it is a very popular timepiece.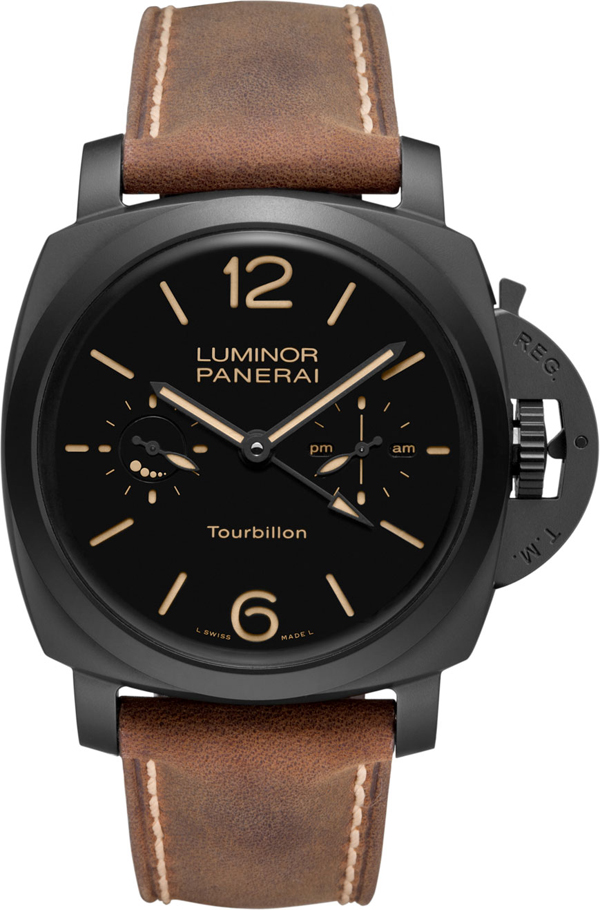 An interesting fact about this watch is the fact that the case shape might not appeal to a lot of people; however, being a very classy model, those who are looking for something they can pass on from generation to generation will surely love it. If you want something that works great with simple functions, this watch is perfect for you. But if you are the type of person who would like something more modern, something a bit edgy, you might have to look somewhere else.  Also, the watch might be a tad too big for most men since it comes with a 48mm case, but there are some who might be looking for an oversized watch and in that case, the Panerai Luminor 1950 is right up their alley. However, despite its size, the watch is extremely light and comfortable to wear; if you have a bigger wrist you might enjoy the way the watch looks and feels. But on a medium and small wrist, the watch might not look as elegant as you want it to look, and it can be a bit too oversized. The watch comes with bowl shaped sides, sweeping lugs, all disposed in a pretty interesting design.
What you will love about this watch is the manual winding which gives it a very traditional touch but also the color combination that makes this watch look almost retro. The golden-black combination will give it an interesting allure and together with the perfect brown leather strap will make it seem like that old family heirloom watch that a grandfather passes to their grandson.  The back of the watch is clear and you can easily see the mechanism working perfectly inside.  Along with the tourbillon function, the watch has a 24 hour function, a power reserve indicator and a second time zone.
Overall the Panerai Luminor is a nice looking watch that not just comes with great design but also a fine tuned mechanism.