A watch is not only an accessory that you wear to check the time; it is a detail that can make the difference between a fashionable, stylish outfit and a regular one. Apart from this, for someone who knows a thing or two about watches, the one that you wear on your wrist can mean a lot of things: who you are, what kind of personality you have, how much you care about your looks and what you believe in. That is why it is vital to choose a watch that will stand out from the others and that will tell a story- like this Koi watch made by Kerbedanz.
The watch comes in a limited edition and there are only 14 pieces produced; this means that it is close to impossible to meet someone who wears the same watch as you. Made with 168 components, 19 jewels and a 72 hour power reserve, it does not only look good but it is also a piece of art when it comes to its functionality.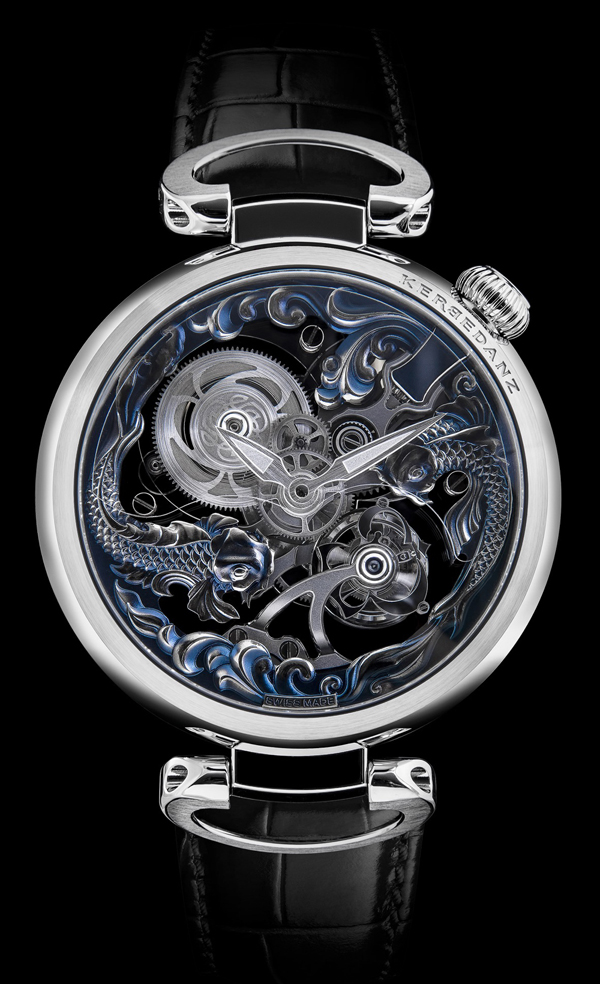 With a special design inspired by the Koi carp, this watch is guaranteed to be in the center of the attention. The case is made from 18K white gold, and the bas-relief is imitating the fascinating shape and move of the Koi carp in the water. A symbol of life, strength and courage, this is exactly the feeling that you will get from wearing this piece. You will be thrilled to discover the delicate micro-sculptures that are decorating the watch; they are truly making the piece unique while still keeping the look of the watch professional and classy. The micro-sculptures  are resembling the real surface of the Koi carp, that comes in a variety of colors and patterns and lives in the fast rivers of China. You will also discover discreet drawings on the inside of the watch that represent the water; while some see it as calm, others see it as a symbol of power and success.
The strap is no different than the rest of the watch, so naturally it is also made from a special, high-quality material. To emphasize the design of this accessory, the strap is made from Alligator Skin that can only be found in the Mississippi river. The folding clasp is, of course, also made from 18 K white gold and it is decorated with a small, but one of a kind Kerbedanz design.
Because the Koi watch is so versatile, it can be worn both with a classic suit or a casual outfit. Suitable for both the day time and the night time, it will transform any piece of clothing into something worth wearing. Why not get your own unique accessory right now?