Hublot Classic Fusion Berluti Scritto
The Hublot Classic usion Berluti Scritto is a one of a kind limited addition watch that was assembled by hand by Hublot experts. The "painstaking perfection" that is this watch comes in only 250 pieces so if you want one, you should hurry and order it! There are many advantages to owning the Hublot Classic Fusion Berluti Scritto. Here are some of them:
The strap
The first thing that strikes you when you first lay your eyes on the Hublot Classic Fusion Berluti Scritto is the beautiful brown and gold colors of the dial and the strap. They go together like magic. The strap has beautiful black edges with brown Venezia leather and in the middle, you can see gently designed Scritto décor. The stitches on the edges of the strap emphasize the beauty of the handwritten Scritto décor and gives it a retro or vintage look. For me, when I first looked at the strap, I immediately thought of the ring in Lord of the Rings. One watch to rule them all, in limited edition!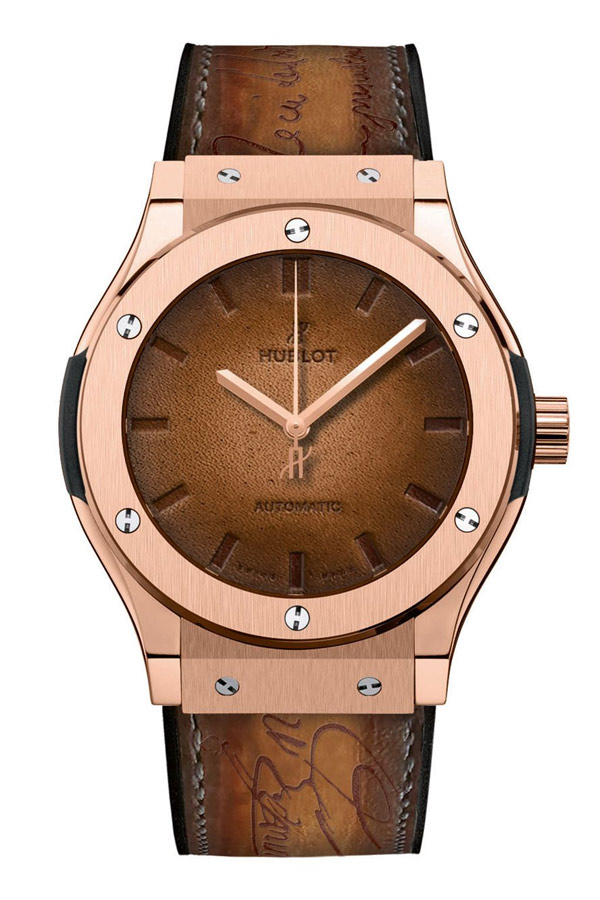 Inner casing
The second most important element of this model from Hublot is the inner casing. The dial also has a few pieces of Berluti Patinated Venezia leather which adds a special touch to the overall watch. The Hublot Logo stands out and is encased in the leather within the dial. The colors chosen for the Hublot watch go great together and they are also emphasized by the sapphires on the outside casing of the dial. The "Hublot" logo is placed in the upper part of the dial. On the bottom of it there is "Automatic" written, which emphasizes the fact that it is a Swiss watch and as we all know, Swiss watches are at the top of the food chain in the watch industry.
Why the use of so much leather though? In the words of the CEO of Hublot himself, "we wanted to go beyond the traditional approach to leather and work with THE most emblematic leather there is. Working with Berluti was a natural choice."
The dial of the watch is quite large when you first lay eyes on it and it may be a little intimidating. The idea behind it is that the watch has to look like a shoebox, particularly when it is in the original box. When you take it out and place it around your wrist, the dial also stands out without being too flashy.
In short, the Hublot Classic Fusion Berluti Scritto is one of the most unique watches on the market. The use of the leather, the inscriptions on the leather and the sapphires used to create it make it worth every penny. Don't forget though, if you want one, hurry up! Only 250 pieces of it were originally made!