Breitling Chronomat Airborne
The Breitling Chronomat Airborne was first designed for the Italian air force's acrobatics team, the "Tricolori" and since then, the watch has become one of the main reference point when it comes to aeronautical chronographs, as it is an extremely useful tool for those working in this field.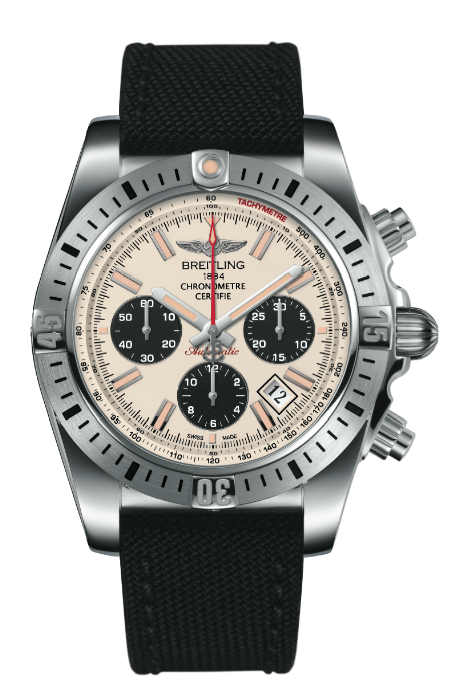 The Breitling Chronomat is also known to have saved the company as it was released in a time when mechanical chronographs were not as popular since the quartz watches just started being produced. However, the beautiful Breitling Chronomat Airborne was an incredible hit and everybody wanted to wear one. The watch, however, was designed for pilots and included a few interesting features to help them during their flights; however, the general population found it extremely pleasing. Since then, the watch has been recreated to fit a more modern crowd and some of its updates have been recently presented. The bezel is simpler, the Arabic numerals are gone and the watch has a rougher feeling; the rubber inserts certainly show that the brand is moving in a new direction, a direction that will focus on more modern designs. The dial has also been redesigned and is now available in two colors: a black classic shade and a more silver beige color. It is very minimalistic but watchmakers wanted to keep a sort of aged feeling so they added a few elements to suggest that. The watch comes with a 41 or 44 mm dial measure so that it fits everyone. The strap also comes in two styles, military style or pilot style.
The power reserve on the watch is minimum 70 hours and a chronograph with 1/4th second, 30 minutes and 12 hours. The watch has a steel case and it's water resistant to 300 meters. It also features a cambered sapphire crystal with glare proof on both its sides.
It's safe to say that Breitling managed to make a lovely homage watch for a younger crowd while maintaining the timeless feel older watches used to have. It is an excellent accessory for someone who wants something sporty and casual but also something that will last for generations as the Breitling Chronomat Airborne is definitely made to last.