Bell & Ross Vintage WW2 Regulateur Heritage
The French watchmaking brand Bell & Ross has already proved its inclination towards the past of the military world, especially that of air forces when it launched on the market two watch models that are replicating the time pieces worn during World War I. After the pocket watch known as PW1 and its similar wrist version, called Vintage WW1, Bell & Ross decided to bring on the market in 2012 a new model – Vintage WW2 Regulator Heritage. Through it, the watch manufacturer decided to pay tribute to the time pieces and navigation tools in use during World War II.
World War II soldiers, especially pilots and sailors needed a time piece that could be read clearly and also easy to use even when wearing protection equipment like gloves. This is the need the French watch manufacturer covered with some ingenious technical solutions incorporated in Vintage WW2 Regulator Heritage. One of them was to provide the watch with a very large case, whose diameter is of 49 mm. The bezel has an ergonomic design and features wide notches rotating both clockwise and against clockwise. The crown is also enlarged in order to make the dials more visible. Vintage WW2 Regulator Heritage has three hands on the dial – one for hours, one for minutes and one for seconds.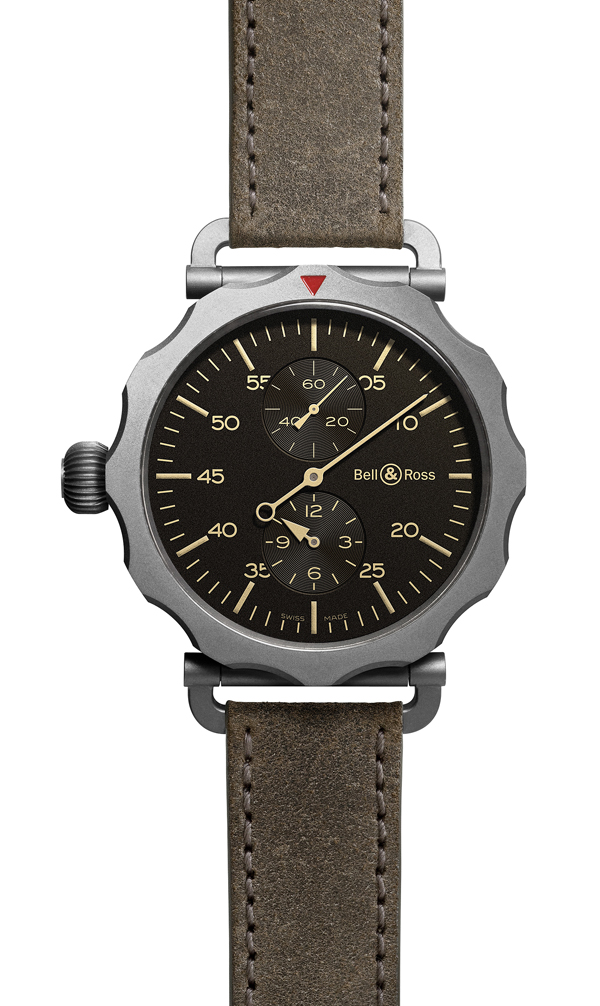 The dial's readability is ensured by the chromatic contrast between the dial, which features a charcoal black color and the other elements which have the color of sand. This was Bell & Ross' solution to the need of enhanced visibility so that a pilot and navigator can read the time in a split second only by taking a glance at his wrist and without distracting its attention too much from the task at hand.
Vintage WW2 Regulator Heritage features a stainless steel case with an amazing gray-colored PVD finish that enhances the intended vintage look of this time measuring device. The strap goes in the same direction, besides having a comfortable fastening mechanism. For the same comfort enhancing reasons, the big crown is placed in a 9 o'clock position, and not in the traditional 3 o'clock one that we would usually see with most luxury watches.
Bell & Ross has come up with an exquisite watch featuring an interesting vintage look and a military style design, but equipped with modern technology and and automatic movement manufactured by Dubois-Dépraz. Vintage WW2 Regulator Heritage also come with a water resistant case that can go to up to 50 meters depth. A nice watch bringing together the present and the past, Vintage WW2 Regulator Heritage is a great and highly successful product Bell & Ross created and brought on the market in 2012.