Bell & Ross Marine Chronograph
While Bell & Ross as a brand is not necessarily one of the industry's top stars, their product Marine Chronograph is a cool and trendy time piece that has seduced watch lovers ever since it was launched on the market. If until now, Bell & Ross found inspiration in the world of aviation, with Marine Chronograph the French watch producer focuses on the sea releasing a diver watch that shines on any wrist.
If previous diving watched within the Bell & Ross collection like the Hydromax were using quartz and oil and looked more like a professional tool, Marine Chronograph comes with a classy luxurious look as well as with improved water resistance and precision features. Marine Chronograph can hold to up to 500 meters under water.
A golden case encloses the round dial which reminds of aviation inspired timepieces. Marine Chronograph is equipped with an internal rotating bezel and an automatic helium release valve. This exquisite and good looking watch features three hands rotating on the black dial, this design totally qualifying it for the chronograph name.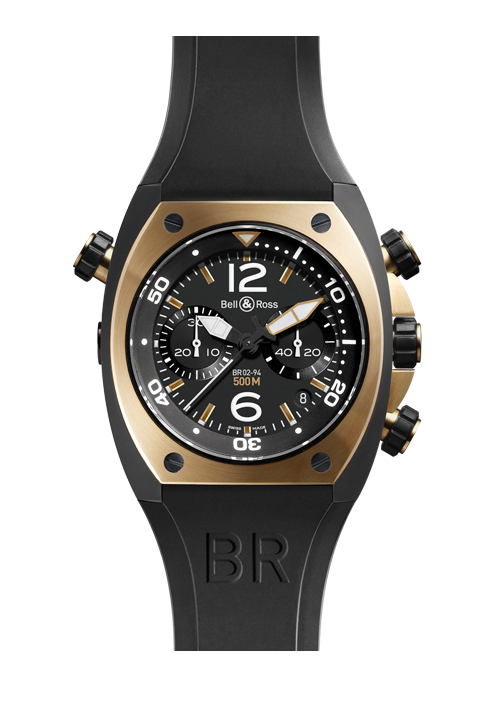 The case is rather bulky and made of stainless steel. On first sight this might seem unappealing, but this goes hand in hand with the function of a diver watch.  The Marine Chronograph closes with a rubber strap that integrates in a beautiful way with the watch's overall design. This 50 mm wide and 49 mm tall watch features a sizeable sapphire crystal in the shape of a dome that provides it with a rather aggressive, yet interesting look.
The desire to make this time piece look as much as possible like a professional diver's watch, the producers equipped it with a minute hand with an orange outline that goes well with some other elements featuring the dial. You might also appreciate the fact that Bell & Ross Marine Chronograph features vivid colors for the hour and minute hand that make it more visible in case of underwater use.
Marine Chronograph is equipped with an ETA 2894 automatic movement, but the manufacturers brought several modifications to it in order to remove its 12 hour counter. This provides the dial with a neater and more elegant look, giving the time piece a timing capacity of 30 minutes. The date indicator appears on the dial between the 4 and 5 o'clock positions. Although it might seem that the dial features too many elements, it remains pretty functional, neat and elegant.
 A watch featuring a nice design, a high level of precision and nice functionalities, Marine Chronograph by Bell & Ross is a good choice for any watch lover with an eye for elegance and high quality pieces.