This charming Bell&Ross is a very thematic watch that will certainly appeal to those who love gambling and the related atmosphere. It is a stunning watch that impresses through the quality of the materials and the interesting way it tells time.
The watch itself is rather simple in design with the exception of the dial. The strong square shape of the case and the alligator leather strap give it a strong presence and enough class to be worn in just about any circumstance. The gold tint of its case also gives it a classic, luxurious look while the small details on the rest of the case make it charming accessory for both casual and elegant events.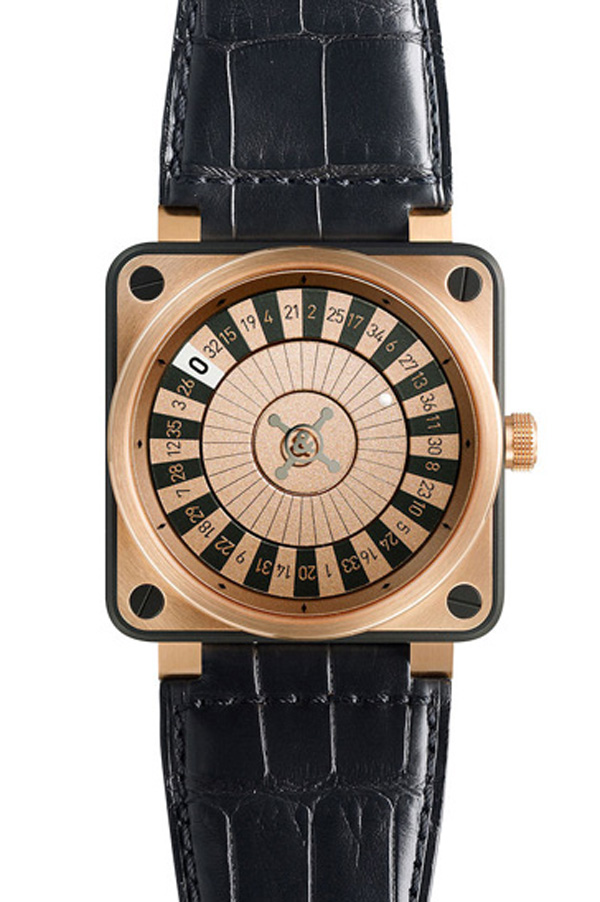 The most impressive factor of this watch if the way it tells time. The dial of the watch is built to perfectly mimic a roulette wheel. It does not contain any numerals or classic watch elements. The way the watch shows time is by three distinct discs. The outer ring tells hours and can be read by following the zero marking on the roulette. The middle ring is used to tell minutes and can be read by following the small white ball while seconds can be read by following the smallest inner ring.
The concept may need some adjustment, however, the watch's stylish shape and charming theme will make it worthwhile for those that truly have a passion for gambling, casinos and everything associated. The watch also has a self-winding mechanical movement that helps power its disk display system. It does not have any other functions like date or tachymeter and only shows seconds, minutes and hours.
The case of this watch is 46 mm in diameter, making the whole watch a very large one. It can work on any type of wrist but will definitely look great on a large wrist. The case is also adorned with PVD steel for increased durability and an 18k pink gold bezel. The watch's durability is also increased by the high quality sapphire crystal. It is both scratch proof as well as glare proof and provides clear visibility in all types of weather.
This beautiful and unique BEll&Ross timepiece is also water resistant for up to 100 meters. However, it is recommended to leave it behind before engaging in any deep sea diving, snorkeling or extreme water sports as it may suffer over time. Wearing it while taking a shower, washing your hands or in the rain is fine and shouldn't bring any form of damage to the watch.
The unique shape, interesting, casino themed aspect and precision of this Bell&Ross will certainly make it a classic, one that will appreciate in value over time and that could give its owner a nice return on his initial investment.